Posts for the '#News and announcements' Category
Is there a parallel between art and crime?
We celebratise the successful distribution of art rather than the shock of the seeded origins. Nothing wrong with that, artists do not need to starve for validity.
Singer by Michael C. Hall
Video by Jonathan Barnbrook
Music by David Bowie
The Enid have been playing prog-rock in various guises since 1973 but this gig was the last one of their current tour and CD release Dust. And not only the last of the tour but the last gig by founding member Robert John Godfrey. Over mamy years, The Enid have produced many highly original albums. Dust is the last part of the Journey's End trilogy.
The Dust concert by the UK's "best kept secret", was nothing less than a sensational theatrical experience, the filmic music experience. Joe Payne's hypnotic entrancing vocal performance is operatic in delivery. Poignantly powerful.
Plus a large video backdrop mysteriously interacting with Payne, this show suprises and shocks with raw theatricality an aesthetic experience with wizardry and dance precision.
Directed by Simon Drake (House of Magic, Secret Cabaret), the concert moved with a certain elegance throughout, with cinematic visual illusion and drama. It was a collaboration of a band at its ripe best with precise pacing. Space age visuals of a fantastic exploding operatic rock godhood is compelling. The prog rock is faithfully majestic but the audience is with it every second of the journey.
An emotional recital and farewell by Robert John Godfrey was met with a standing ovation as were the band before and following a cracking encore showing that The Enid is indeed a very current band, progressively current prog-rock.
It is as though a part of a memory being enacted helps the public to mourn the loss of an icon. It is hard to say this, and perhaps I have not left it long enough but allowing your act to perform the complex arithmetic of a Bowie song, or a performance that peoples' minds will compare to flawless, filmic renditions in the memory. In his final decade, Bowie decided to leave artifacts that bear examination, rather than memories that twist and fade.
For his own way of looking, from the other side of the mirror, it was his work as an artist that he cared about, not the fame or experience of the glare of galaxies of eyeballs pouring out attention and admiration. He made extraordinary video artworks, made two records of some of his best music before he departed from this life.
And so the tributes started, almost always Rebel, Rebel or Life on Mars or a medley mashup of obvious hits. Bruce Springsteen honoured Bowie by turning Rebel Rebel into his own original hard rock. Madonna mangled the same song by trying in vain to duplicate it, but her own performance was unconvincing. Then there were two piano expositions by Elton John and Mike Garson. Both are works of great talent and highly appropriate, the latter in particular. And of course Rick Wakeman playing it again, Sam.
Discovered handheld phone footage of Iggy Pop singing Tonight with the great Sharon Jones, backed by the Patti Smith Group at Carnege Hall. That the promoters or artists did not film this is unfortunate.
The two most expensive and "significant" of the tributes started at the Grammies with a misjudged covers medely swiftly strutted out against the super-mad prodution values of the woman who seems to want to change personae every time she appears, now using a computer chip sponsor to exploit technical gimmickry and morph Bowie Hollywood upon her visage, so perhaps she wants to be seen as a model of his personae, wearing his makeup like a mask. Then performing, (she has learned from her glare of her crowd), with great skill and energy a fine rendition of what she felt. For all its glossy postmodernism and pasartface, it was gold where brass was it, it was dressing your soldiers for war in silver rather than having enough tin to go around. She was great, but not that great. Too much technology and the feeling of the art is disguised, imperceptable instead of imperfection highlighting danger, plastic perfection slides by.
And then a producer who should be knighted immediately perhaps, the producer of The Brit Awards did not do what the tired of all this media were expecting. Rumours of a "supergroup" weirdly composed of Bono, Damon Albarn, Noel Gallagher, Adele and Coldplay scared Bowie fans into a sense of Brit boycott finally broken for me as I switched the channel to see Annie Lennox waiting for the crowd's silence. Her tribute, her expression, brought forward how tangible the loss felt; Gary Oldman added to it perfectly, then introduced the act that nobody had anticipated. Bowie's touring band playing a respectfully brilliant mashup of his music and then Lorde walked on an made the world cry with her emotional volume and sensitivity. Life on Mars brought Bowie back to life. And that made the most genuine tribute.
Das Fluff is a Berlin based band who supported Toyah Wilcox recently in a gig. We filmed it for them and here is a 20-minute film of their gig. Electro-sleaze pop. See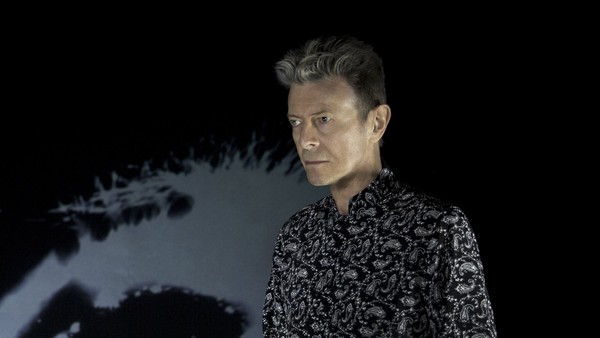 CD released 8 January 2016
It is as enigmatic as the best of David Bowie's work over the years, it is not transparent and like literature contains many hooks and references to other works that provide layers of resonance and discovery. The CD compiles seven long tracks two of which were pre-released giving the listener a chance to gain reference points into an otherwise other-worldly and deeply strange work.
It is an excellent album of new music, an original synthesis of jazz, and Bowie's iconoclastic style slips in hauntingly familiar notes of reference. It seems to be a journey into unknown places led by a lunatic wretch immortal with quivering hands and tortured grimace. This musical legend now portraying not so much a character but becoming a myth that toys with your senses.
Bowie has written some extraordinary music here and collaborates with highly talented musicians to produce a work in the traditional manner of a conductor and his orchestra. Unlike a "rock band" that "grooves" into a track he takes familiar phrases he embeds it in a world that is genuinely strange, and like most great art appears to be personal when it is referential.
This CD album is a beautiful artifact as well as a vehicle for highly affective and intensely majestic music. Of course it will not appeal to everyone, art may never appeal to the masses but, so what? Even the lyric booklet is enigmatic. This is intelligent music that will still be great in 50 years, like so much of his classic lasting work from the 70s. Inevitable comparisons aside, this is the NEW. And it is wonderful. Five black stars.
Videos for Blackstar and Lazarus by Johan Renck (The Last Panthers) have also been released on Vevo and Youtube, indeed, the CD's tracks are given away on Youtube. The album has reached No 1 on the UK iTunes and Amazon charts, and No 2 in the USA. Giving away work does not seem to harm sales!
Video for Lazarus
---
See also:
"You have to assume Bowie is tackling myriad theatrical voices as Blackstar throws up one unsettling scenario after another, with little obvious connection other than unease and the outrageously good soundtrack in which they are set – weighty with percussion and genre fusions, saturated with instruments, bleak, and unexpectedly, towards the end, resolved. Lazarus has a Greek chorus of sad brass and a breathtaking key change; the 10-minute title track is as awe-inspiring a piece of music as you could ever expect from an established artist." Guardian Review
10 Brilliantly Bizzare Bowie Videos featuring a rarely seen Boys Keep Swinging with Klaus Nomi shown on Saturday Night Live.
for Bjork's Mutual Core video
Short film
13 minutes long. Utterly brilliant. Available on iTunes
Lou Reed died. At a Nick Cave concert, the mobile blurts the news loud and it's instantly clear. The sudden end of an era. There were those few seconds for it to actually arrive at any level of understanding. This tribute by a friend will be available very briefly, so no social linking on this site – follow the video maker on youtube!