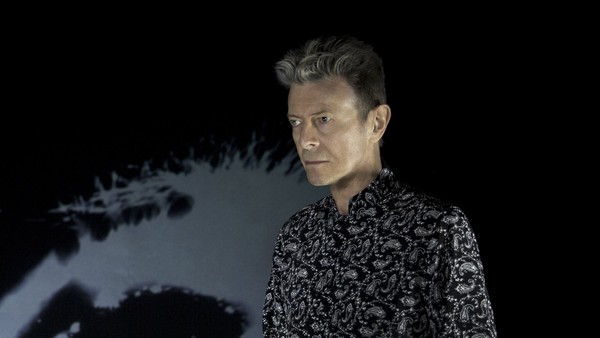 CD released 8 January 2016
It is as enigmatic as the best of David Bowie's work over the years, it is not transparent and like literature contains many hooks and references to other works that provide layers of resonance and discovery. The CD compiles seven long tracks two of which were pre-released giving the listener a chance to gain reference points into an otherwise other-worldly and deeply strange work.
It is an excellent album of new music, an original synthesis of jazz, and Bowie's iconoclastic style slips in hauntingly familiar notes of reference. It seems to be a journey into unknown places led by a lunatic wretch immortal with quivering hands and tortured grimace. This musical legend now portraying not so much a character but becoming a myth that toys with your senses.
Bowie has written some extraordinary music here and collaborates with highly talented musicians to produce a work in the traditional manner of a conductor and his orchestra. Unlike a "rock band" that "grooves" into a track he takes familiar phrases he embeds it in a world that is genuinely strange, and like most great art appears to be personal when it is referential.
This CD album is a beautiful artifact as well as a vehicle for highly affective and intensely majestic music. Of course it will not appeal to everyone, art may never appeal to the masses but, so what? Even the lyric booklet is enigmatic. This is intelligent music that will still be great in 50 years, like so much of his classic lasting work from the 70s. Inevitable comparisons aside, this is the NEW. And it is wonderful. Five black stars.
Videos for Blackstar and Lazarus by Johan Renck (The Last Panthers) have also been released on Vevo and Youtube, indeed, the CD's tracks are given away on Youtube. The album has reached No 1 on the UK iTunes and Amazon charts, and No 2 in the USA. Giving away work does not seem to harm sales!
Video for Lazarus
---
See also:
"You have to assume Bowie is tackling myriad theatrical voices as Blackstar throws up one unsettling scenario after another, with little obvious connection other than unease and the outrageously good soundtrack in which they are set – weighty with percussion and genre fusions, saturated with instruments, bleak, and unexpectedly, towards the end, resolved. Lazarus has a Greek chorus of sad brass and a breathtaking key change; the 10-minute title track is as awe-inspiring a piece of music as you could ever expect from an established artist." Guardian Review
10 Brilliantly Bizzare Bowie Videos featuring a rarely seen Boys Keep Swinging with Klaus Nomi shown on Saturday Night Live.