The very idea that a performance of a piece of music may be perfection can only be found if there is skill in the slicking of varioations on themes already found to be appealing to the human sexual response networks. That thing in the air that makes a panther pounce. Or a hit be brewed, even if slowly.
The death of Ziggy Stardust was the apoleptic of Rock to die a proper rock-and-roll-suicide at the ends of the extended deathwish blade the British formula gave to an act with specialist market appeal, recognised that they lumped Bowie's art alongside more scholochy, schmucky glam, either gloomy, insane or blokish ladding about in tights as well as his imitators. There are a few acts in the Glam genre that perhaps should have a connection to the Bowie version of Glam, but after he killed Ziggy and Aladdin Sane overdosed on quaaludes in Mullholland Drive, Bowie gave birth to this performance of his own addition to the great America Jazz songbook, Young Americans.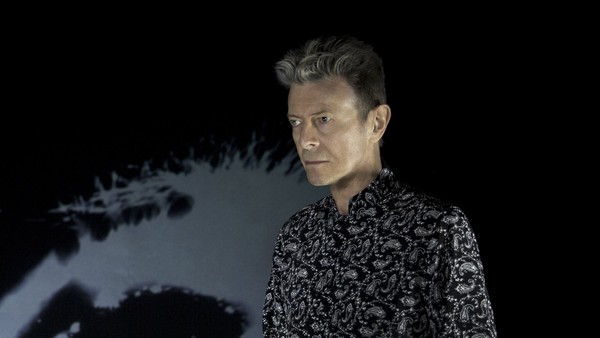 CD released 8 January 2016
It is as enigmatic as the best of David Bowie's work over the years, it is not transparent and like literature contains many hooks and references to other works that provide layers of resonance and discovery. The CD compiles seven long tracks two of which were pre-released giving the listener a chance to gain reference points into an otherwise other-worldly and deeply strange work.
It is an excellent album of new music, an original synthesis of jazz, and Bowie's iconoclastic style slips in hauntingly familiar notes of reference. It seems to be a journey into unknown places led by a lunatic wretch immortal with quivering hands and tortured grimace. This musical legend now portraying not so much a character but becoming a myth that toys with your senses.
Bowie has written some extraordinary music here and collaborates with highly talented musicians to produce a work in the traditional manner of a conductor and his orchestra. Unlike a "rock band" that "grooves" into a track he takes familiar phrases he embeds it in a world that is genuinely strange, and like most great art appears to be personal when it is referential.
This CD album is a beautiful artifact as well as a vehicle for highly affective and intensely majestic music. Of course it will not appeal to everyone, art may never appeal to the masses but, so what? Even the lyric booklet is enigmatic. This is intelligent music that will still be great in 50 years, like so much of his classic lasting work from the 70s. Inevitable comparisons aside, this is the NEW. And it is wonderful. Five black stars.
Videos for Blackstar and Lazarus by Johan Renck (The Last Panthers) have also been released on Vevo and Youtube, indeed, the CD's tracks are given away on Youtube. The album has reached No 1 on the UK iTunes and Amazon charts, and No 2 in the USA. Giving away work does not seem to harm sales!
Video for Lazarus
---
See also:
"You have to assume Bowie is tackling myriad theatrical voices as Blackstar throws up one unsettling scenario after another, with little obvious connection other than unease and the outrageously good soundtrack in which they are set – weighty with percussion and genre fusions, saturated with instruments, bleak, and unexpectedly, towards the end, resolved. Lazarus has a Greek chorus of sad brass and a breathtaking key change; the 10-minute title track is as awe-inspiring a piece of music as you could ever expect from an established artist." Guardian Review
10 Brilliantly Bizzare Bowie Videos featuring a rarely seen Boys Keep Swinging with Klaus Nomi shown on Saturday Night Live.
Extraordinary film maker Xavier Dolan disturbing video for Indochine (video contains acts of violence and school classroom scenes). He also directed Adele's video for Hello, but this is quite something else. It seems to have inspired David Bowie using the same square format Dolan also uses to great effect in his feature Mummy.
The boy is victim and yet saviour. The video explicitly makes you witness the criminal human in full pack animal mode. The 16mm style window view is this director's thumbprint. Expressionism and pain.
In 2009, Dolan identified Michael Haneke as one of his favourite directors for his precise camerawork and strong writing, citing Haneke's Funny Games and The Piano Teacher as favourites.[26] At the 2014 Cannes Film Festival, Dolan said that The Piano by Jane Campion was a major inspiration for him.
One of those rarities, a Bowie performance from the time of Heroes recorded Live on Musikladen Extra, Radio Bremen German-TV, May 21st, 1978
for Bjork's Mutual Core video
Published on 24 May 2012
'Tokyo Daisuki' by Das Fluff
written by Dawn Lintern copyright sohappymusic
Video Christian Ruland
Utter brilliance exquisite direct performance full of menace, casually, dropping in our own cultural references of a world going wrong and having a bit of fun redefining the limits of rock video by making art films. The video brings the song into focus. God knows it's good.
Press release on DavidBowie.com
An original powerful new video from Jordan Reyne as she announces her new album The Annihilation Sequence.
Saints and sinners are confusing concepts as Christianity was subsumed into the Roman Empire after the most bloody persecution by tyrannical Emperor Diocletian in 303AD to 311AD. Following his reign, Constantine embraced Christianity as the religion of the state on The Next Day. On Another Day. Look what happened as corruption and power leaked into what was a following of a prophet of peace and love, how it turned into the persecution and abuse of the poor and the vulnerable in a collusion between power and faith. Look how it turned to the abuse of children, a cause for the worst wars throughout its bloody history. Central to its myth is a belief in something better but it – organised religion can not stand what it stands for – indeed.
Listen!